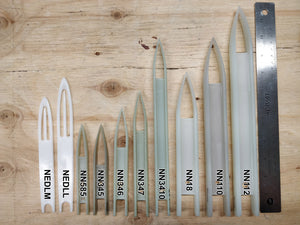 Net needles most commonly used fish net production. However, can be used in many other applications where a needle and twine is needed for lacing or tying down.

All the NN prefix needles are your standard Loomis machine needles Made in the USA by Artech Sinrud. 
The NED prefix needles are flat needles imported from overseas.
NN12 - 1" x 12"
NN110 - 1" x 10"

NN18 - 1" x 8" - most common size
NN3410 - 3/4" x 10"
NN347 - 3/4" x 7"

NN346 - 3/4" x 6"
NN345 - 3/4" x 5"
NN585 - 5/8" x 5"
NEDLL - 8" flat needle - import
NEDLM - 6-3/4" flat needle - import